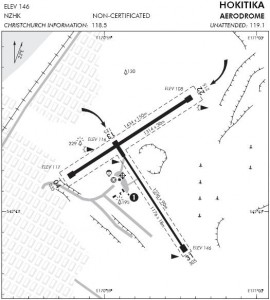 Hokitika (NZHK) 23-26 March 2007
Simply Click on First Image to View Slide Show: – Scroll Down to See Commentary
It was magic from start to finish with only a bit of fog in the middle to get us onto the meeting so we could go on the bus ride on Sunday. Catching up with the Omaka contingent just as they took for Hokitika and accompanied by the "irreverand's" fancies about co-pilots we wended our way towards Hokitika learning on the way about an idiosyncratic west coast farmer's way of draining the land. Guess there's not a lot to do on the West Coast because they are called Hump'n'Hollows Colin said. yeh well!!!??? Nuff said. Actually its true but spelt hump and hollows, I looked it up on the trusty internet. It's not an adult recreation area for Lake Bruner farmers but the way they manage the excess damp by creating a series of long low ridges and valleys in their paddocks. Softened by late afternoon sunbeams the landscape below us was beautiful.
Rumour had it that Keith Sinclair, our favourite North Island helicopter pilot values his passengers by their chart reading skills. Colin on the other hand decided to do a circuit before heading south. A quick stop to close the luggage hatch and then chat with the friendly instructor who said our EPERB was on before taking off again from Taonui airfield. Graham and Carol in the Jabaru and Roy and Marlene in the Tecnam are heralding in the era of sports flights in nifty luxurious microlights. Marlene says with the canopy back and the wind in your hair there's nothing better.
Eric and Trish met us at Hokitika with a copy of the programme (thank goodness for those who always forget to pack their own) and a cuppa by the local Rotarians. Congratulations to Eric, the Hokitika Rotarians, especially Mike, who made the weekend run smoothly, Wayne for their organization of another great fly-in. The irreverend strolled casually up the street from the supermarket to the motel with a trolley full of wine and nibbles and the occasional breakfast snack (he returned it next morning).
What a lovely surprise when Heather incoming President of Hokitika Rotary handed us an elaborate folder of Hokitika information complete with greenstone sample and chocolate at Wong's Wok where we had dinner the first night. Heather who now drives a Mercedes convertible has also been a student pilot in a former life.
Fog, fog and more fog so after an hour or so of chitchat and detailed negotiation of the helicopter passenger manifest for the flight to Haast, President Wayne rescheduled the biannual meeting to Saturday morning. Then with clear skies some headed for Haast via Mt Cook and others took the coast route. The superlatives were all used up by the time Roy and I left the Mt Cook area, it was sunny, calm, just absolutely a wonderful memory to have. I discovered that you can control the Tecnam's flaps by just be thinking about moving your finger across the stick never mind moving a muscle.
Fortunately lunch at Haast was sandwiches, ordered ahead, because we flew in well after lunchtime but were well fed and watered. From the sublime – flight to Haast – to the ridiculous – a young man in a topee touring the South Island on a penny-farthing bicycle. We discovered the verges at Haast airfield are soft and several planes had to be strongly encouraged by lots of hands to get back to the runway. Pilot Sue's gutsy motor got itself out. Another wonderful flight back, Julie collecting an album of photos for the trip while Ian flew us back.
Saturday night with the Hokitika Rotary club was fun and a chance to meet new people from the Hokitika Rotary club. Brian Souter regaled us with stories of his flying days complete with 'bodies' hanging from the overhead locker, a prank by a co-pilot. Marlene had been shopping again and Joan was seen to dropping her bundle so was given a reel of black tape to keep up those sagging bits. Marlene presented another funny and prosperous Sergeants Session, when is she giving up that job, its too dangerous to be around her.
On Sunday we took a bus tour through Ross (tales of a tank owner who used to shoot up the river bed) to Harihari, seeing on the way the little church which housed a man in its roof for about two years unbeknownst to the community. We visited the replica of Guy Menzies' plane and the field where he landed in 1931 after the first solo flight from Australia to New Zealand. He landed in a field of flax and proved, in the very early days of powered flight, that "any landing you walk away from is a good landing". Aircraft security definitely needed to be invented as parts of his plane were 'souvenired' by those who came to view the plane. While visiting the replica, Heather thought she had hit the jackpot when she dropped a donation into the box only to have a pile of coins suddenly appear at her feet. The donations went to help the dedicated group of volunteers who have not only built the replica of the plane but built a hangar to house it in Harihari. 'Measure twice then cut once" is a maxim the community has learned the hard way but the plane is now safely in its cosy hangar complete with replica of Guy Menzies.
Back in Hokitika we farewelled those who were lucky enough to be staying on and took off to the North another wonderful fly-in weekend finished off by a clear sunny flight home. Looking forward to exploring Wellington next time. Hokitika Flyin Report – by Joan Norrie