The IFFR (International Fellowship of Flying Rotarians) is an international organization enjoying support from over 1,500 members in more than 50 countries world-wide. IFFR is divided into four regions (Americas, Europe, Australia-Asia, and Africa), which consist of fourteen sections. MEMBERSHIP is open to all Rotarians actively interested or engaged in aviation.
The objectives of the Fellowship are:
IFFR is one of the oldest Rotary Fellowships and was formally established through the efforts of a dedicated Rotarian, E. Edison Kennell, of Seattle, Washington, in 1965. In countries where distances are great and communications are limited IFFR pilots have used their aircraft to help with medical and other emergencies, and several Sections hold meetings at which young people are introduced to the world of aviation.
The activities of IFFR bring together flying and non-flying Rotarians alike in local section meetings all over the world. Many members have flown their private aircraft over the oceans of the earth for Conventions, fly-in events, Rotary service projects, and various other home club and district programs. International understanding has and will continue to benefit through the Fellowship.
At every R.I. World Convention IFFR maintains a Booth in the House of Friendship to bring to the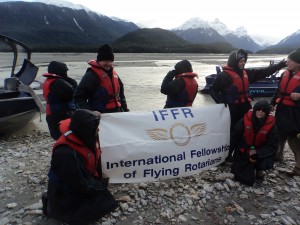 attention of earthbound Rotarians the manifold benefits which aviation brings to Rotary, and which IFFR members have adopted as an Avenue of Service. Fly around trips are held after each R.I. Convention.

The New Zealand Section of the IFFR was formed in February 1995 and now as a small but active membership of about 50 keen Rotarians. Our group meet at 6 monthly intervals for a weekend fly-in and social activities, each time at a different location throughout New Zealand. We are also fortunate to be able to share the company of Australian IFFR Members who visit for many of our fly-ins, and our own members are regular attendees at similar events that are held in Australia.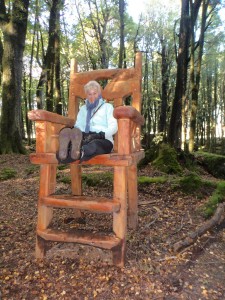 Previous fly-ins are listed below.
Any Rotarian with an interest in aviation is welcome to join our group, and can apply on line directly from the website "Join" page. To date we have membership from those that simply must look up when an aircraft passes overhead, to Air Traffic Controllers, Engineers, Aircrew, and Pilots. Some are active, some retired, some wishing to retire, some wishing to be more active in aviation. Membership to IFFR is an ideal way to experience aviation and fellowship all rolled up in one.
You can also join our Facebook group page, click on this link https://www.facebook.com/groups/1149363798592815/about/  and ask to be approved as a Member.
---
Past Fly In Destinations
Paraparaumu (NZPP) Feb 1995
Feilding (NZFI) Aug 1995
Nelson (NZNS) Feb 1996
Waipukarau Sep 1996
Whakatane Feb 1997
Norfolk Island Sep 1997
Mount Cook/Tekapo Feb 1998
Masterton (NZMS) Sep 1998
Westport Feb 1999
Ashburton Sep 1999
Auckland Mar 2000
Wanaka Sep 2000
Taupo (NZAP) Feb 2001
Norfolk Island Sep 2001
Blenheim/Wanaka Mar 2002
New Plymouth (NZNP) Sep 2002
Rotorua Mar 2003
Kaikoura (NZKI) Oct 2003
Gisborne (NZGS) Mar 2004
Napier/Hastings (NZHS) Oct 2004
Ardmore (NZAR) Mar 2005
Christchurch (NZWG) Oct 2005
Bay of Islands (NZKK) Mar 2006
Wanganui (NZWA) Oct 2006
Hokitika (NZHK) Mar 2007
Paraparaumu (NZPP) Oct 2007
Tauranga (NZTG) Mar 2008
Martinborough (NZMT) Sep 26-29, 2008
Ashburton (NZAS) Mar 27-29, 2009
Kaitaia (NZKT) Sep 18-20, 2009
Motueka (NZMK) Mar 26-29, 2010
Whakatane (NZWK) Oct 8-10, 2010
Alexandra (NZLX) Mar 25-27 2011
Taupo (NZAP) Oct 21-24 2011
Te Kowhai Hamilton (NZTE) Mar 2-4 2012
Blenheim (NZWB) Oct 5-7 2012
Tutukaka (NZWR)  Mar 8-11 2013
Fielding (NZFL) Nov 7-10 2013
Queenstown (NZQN) May 24-30 2014
Whitianga (NZWT) Oct 2014
Oamaru Mar 2015
Tuakau (NZAR) Sept 3-4 2015
Christchurch (NZCC) Apr 1-3 2016
Gisborne (NZGS)  Oct 14-17 2016
Dannevirke (NZDV) Mar 3-5 2017
Wesport (NZWS) Oct 6-8 2017
Chatham Islands (NZCI) Apr 11-16 2018
Stratford (NZSD) Oct 26-29 2018
Nelson/Omaka (NZNS) Apr 19-22 2019
Rotorua (NZRO) October 11-14 2019
Thames (NZTH) October 16-19 2020
Timaru (NZTU) March 26-29 2021
Hastings (NZHS) October 14-17 2022
Invercargill (NZNV) 31 March – 3 April 2023
---