Stratford 26-28 October 2018
Itinerary/Programme

[Organised by Michael Bryant ph 06 329 2443 Mob 027 440 2620, Eric Linklater ph 06 323 7700 Mob 021 118 2876 & Garry Goodman ph 06 357 1280 Mob 022 357 1280]
STRATFORD Fly in, 26th to 28th October, 2018,
Stratford lies to the East of Mt. Taranaki, mid way between New Plymouth and Hawera. It is the centre of a rich dairy farming area, and the western gateway to the "forgotten Highway" and Taumarunui. Our visit will coincide with the Taranaki Garden Spectacular.
ACCOMODATION:
We have reserved rooms at the AMITY COURT MOTEL, 35 Broadway, Ph 06 765 4496, or 0800 496 313:
Email :- info@amitycourtmotel.co.nz . or www.amitycourt.co.nz .
This is a near new motel, on the northern side of Stratford, and right next to a new Countdown Supermarket.
If booking, please state you are with the "Flying Rotarians" or IFFR. Bookings are expected to be heavy, with the Garden Spectacular in progress, so the Motel won't hold rooms after 31st August.
PROGRAMME:
Arrive Friday 26th, Commercial flights from Christchurch and Auckland to New Plymouth, and private pilots preferring to fly into New Plymouth, will be met and transferred. Stratford airfield is to the North East of the town, about 3 kms out.
1830: Transfer to Midhurst Tavern , for buffet and get together
Saturday 27th:
Breakfast in motel, this can be arranged, but with the Countdown next door it's just as easy to arrange your own.
0900; Bus leaves motel for Tawhiti Museum, arriving at 0930 – The Museum will open earlier for our group.
Visit both the Museum and "Traders and Whalers" display.
1200 Lunch at Badgers Cafe (at the Museum) then depart for the Elvis Presley Private Museum, Hawera. Records and memorabilia collected since 1959. A must see if you are an Elvis fan !!

1330 Depart for Hollard Gardens (a garden of National Significance) for a walk through the informal and intimate gardens. Rhododendrons and camellias will be in bloom and there is a strong representation of these. (www.hollardgardens.info)
1445 Transfer to Dawson Falls, Afternoon tea is available at the lodge, (own cost) and a short walk (20min) down to the falls. Look through the DOC information centre before returning to the Motel.

1730 Transfer to Well Cafe in the centre of town for Rotary meeting with Stratford and Stratford Satellite Clubs.
Sunday 28th:
Breakfast in motel as above.
0845: IFFR Meeting in either room 8 or room 10 at the motel
0930: Bus departs for Pioneer Village:- a great outdoor museum featuring forty buildings representing authentic structures circa 1850 – 1950

1030: to TATATM (Taranaki Aviation Technology and Transport Museum) a hands on museum. for those who wish, across the highway is the renowned Lake Mangamahoe, for a short walk around this beautiful lake.
1200: Back to Egmont Village and Kauri Cottage for lunch, then to "Pukeiti" the Rhododendron spectacular on the slopes of Mt Taranaki, beside the Egmont National Park. (There could be an option of a guided tour, as has been done in the past during the Garden Festival) if not, avail yourself of a short walk in and around the garden and the new aerial treetop walk.
1615: Depart to arrive back at Stratford by 1700 then for those who wish, transfer to Stratford Mountain House Restaurant for fine dining ( 20 min drive up the Mountain from the motel:- own cost, numbers needed for reservations)
Monday 29th:
Depart motel by 1000, we will catch commercial flights and transfer to private aircraft.
If you are driving, our visit coincides with the regional Garden Festival which runs for 10 days 26th October to 4th November. We visit two of the gardens but it's the privately owned gardens that are opened exclusively for the festival that are a must see. If you have time, stay on and enjoy the gardens, tours, guest speakers, and community events that take place over the following ten days. Programmes are available from July and can be forwarded from the Stratford Information Centre PDent@stratford.govt.nz
Registration
Registration for the fly-in is $250 per person
Accommodation
Accommodation cost is not included in the Registration Fee for the Fly-in.

A number of rooms have been reserved for IFFR participants at the Amity Court Motel, 35 Broadway, Stratford and that will be the base for our weekend. Our Motel hosts are Jason and Kate Kowalewski ph 0800 496 313 or email info@amitycourt.co.nz
When booking at Amity Court Motel please identify yourself as being with IFFR Flying Rotarians for the rates shown below.
Room options reserved include:
Twin Studio (9 units available Queen + Single) – Upstairs – $130/unit/night based on 2 persons

King Spa Studio (5 units available Super King bed) -Downstairs – $135/unit/night based (2 persons).
Accessibility Studio (1 unit available Queen ) – downstairs – $130/unit/night based (2 persons).
Two Bedroom (2 units available King beds x2 or singles x4) – downstairs – $200/unit/night (4 persons) – already booked!
Note: more rooms of each type may be available – or capacity for additional persons in unit – if necessary ask when booking.

Breakfast for Sunday only is included in the Registration and itinerary, but breakfasts for Saturday and Monday are own arrangements. A continental breakfast can be booked at Amity Court Motel for $13/person per breakfast if required (delivered to room the night before). All units have kitchen cooking facilities and Countdown Supermarket is next door open 7am to 9pm 7 days..

Some of the attractions in Stratford:
Stratford's glockenspiel stands proud in the main street, Broadway, and is unique to New Zealand and plays a delightfully romantic scene from Shakespeare's Romeo and Juliet four times daily (10am, 1pm, 3pm and 7pm).
The 'Bridge to Somewhere' at Aotuhia was built in 1937 across the Whangamōmona River. 
Colonel Malone Statue
A statue of New Zealand war hero Lieutenant Colonel William George Malone stands tall on Broadway South. The statue of the dapper soldier, facing Mt Taranaki, topped in his signature lemon squeezer hat, serves as a reminder of his great leadership and the sacrifices he made for his country. Initiated by the Malone Quest Committee, the bronze statue of Lt Colonel Malone was unveiled on 20 November 2011.
Taranaki Pioneer Village

Taranaki Pioneer Village, opened in 1976, offers a unique opportunity to experience an outdoor
Percy Thomson Gallery
Stratford's public art gallery and was opened in June 2002 following a bequest to the District by former mayor and businessman Percy Thomson. The Gallery is operated by a trust.
Hollard Gardens – a garden of National Significance) for a walk through the informal and intimate gardens.  Rhododendrons & camellias will be in bloom during your visit.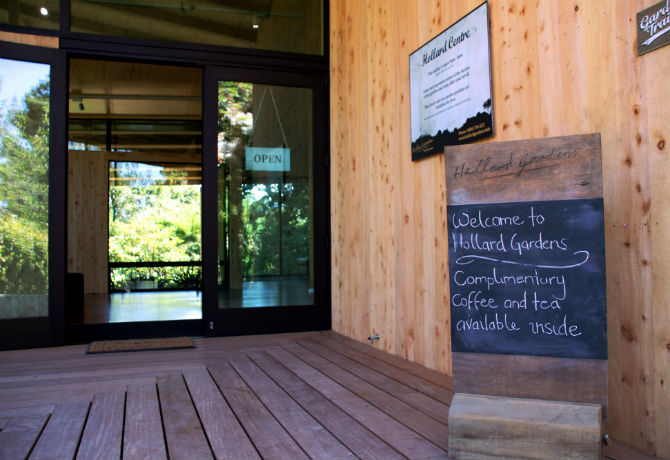 Mt Damper Falls
The highest waterfall in the North Island, Mt Damper Falls, is a short drive and walk off State Highway 43.